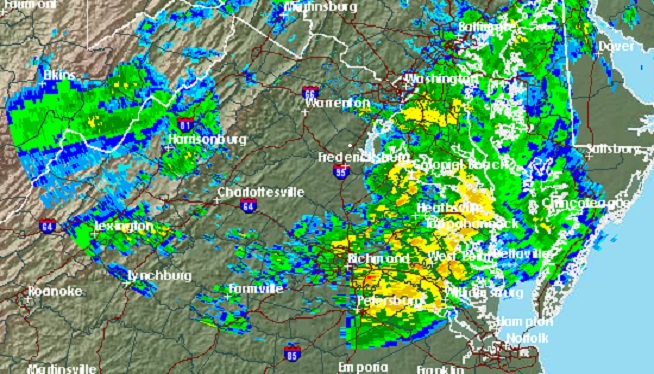 John Matthews
WMAL.com
WASHINGTON — (WMAL) Poor ol' Santa is going to be making his rounds in Bermuda shorts and a raincoat tonight.
With rain crossing the area, temperature records began to fall as soon as the clock struck midnight on Christmas Eve morning, as the record high for the day – 65 – was tied at BWI, and then broken shortly thereafter. As of 5 am, it was 68 and rising in Baltimore.
The Christmas Eve records for D.C. (69) and Dulles Airport (66) will also certainly be smashed early today, with highs expected to reach the mid-70's under dreary, rainy skies.
The Washington area is under a flash flood watch from 9 am to 9 pm on Thursday, with rain, and perhaps even a thunderstorm, through the day.
Thursday night will bring a few showers for the Midnight Mass-goers, and perhaps some fog.
For Christmas day, you can expect mild weather, with temperatures again pushing towards the 70 degree mark, but expect rain showers as well.
Copyright 2015 by WMAL.com. All Rights Reserved. (PHOTO: National Weather Service)
DISTRICT OF COLUMBIA-SOUTHERN BALTIMORE-PRINCE GEORGES-
ANNE ARUNDEL-CENTRAL AND SOUTHEAST MONTGOMERY-
CENTRAL AND SOUTHEAST HOWARD-
PRINCE WILLIAM/MANASSAS/MANASSAS PARK-FAIRFAX-
ARLINGTON/FALLS CHURCH/ALEXANDRIA-
INCLUDING THE CITIES OF…WASHINGTON…BALTIMORE…BOWIE…
SUITLAND-SILVER HILL…CLINTON…COLLEGE PARK…GREENBELT…
LAUREL…CAMP SPRINGS…GLEN BURNIE…ANNAPOLIS…SEVERN…
SOUTH GATE…SEVERNA PARK…ARNOLD…ODENTON…BETHESDA…
ROCKVILLE…GAITHERSBURG…SILVER SPRING…COLUMBIA…
ELLICOTT CITY…DALE CITY…MANASSAS…WOODBRIDGE…LAKE RIDGE…
MONTCLAIR…RESTON…HERNDON…ANNANDALE…CENTREVILLE…
CHANTILLY…MCLEAN…FRANCONIA…ARLINGTON…ALEXANDRIA
344 AM EST THU DEC 24 2015
…FLASH FLOOD WATCH IN EFFECT FROM 9 AM EST THIS MORNING THROUGH
THIS EVENING…
THE NATIONAL WEATHER SERVICE IN STERLING VIRGINIA HAS ISSUED A
* FLASH FLOOD WATCH FOR PORTIONS OF MARYLAND…THE DISTRICT OF
COLUMBIA AND NORTHERN VIRGINIA…INCLUDING THE FOLLOWING
AREAS…IN MARYLAND…ANNE ARUNDEL…CENTRAL AND SOUTHEAST
HOWARD…CENTRAL AND SOUTHEAST MONTGOMERY…PRINCE GEORGES AND
SOUTHERN BALTIMORE. THE DISTRICT OF COLUMBIA. IN NORTHERN
VIRGINIA…ARLINGTON/FALLS CHURCH/ALEXANDRIA…FAIRFAX AND
PRINCE WILLIAM/MANASSAS/MANASSAS PARK.
* FROM 9 AM EST THIS MORNING THROUGH THIS EVENING
* ONE TO TWO INCHES OF RAIN FELL YESTERDAY ACROSS THE BALTIMORE-
WASHINGTON METROPOLITAN AREA. THE AIRMASS IS UNUSUALLY MOIST FOR
LATE DECEMBER…WITH ANOTHER QUICK INCH OF RAIN POSSIBLE TODAY.
GIVEN SATURATED SOIL AND LITTLE VEGETATION…THIS RAINFALL WOULD
LEAD TO FLASH FLOODING OF URBAN AREAS AS WELL AS SMALL STREAMS
AND CREEKS.
* THERE IS POTENTIAL FOR RAPID RISES OF WATER ON SMALL STREAMS…
AND FLOODING OF LOW-LYING AREAS OR ROADWAYS.
PRECAUTIONARY/PREPAREDNESS ACTIONS…
A FLASH FLOOD WATCH MEANS THAT CONDITIONS MAY DEVELOP THAT LEAD
TO FLASH FLOODING. FLASH FLOODING IS A VERY DANGEROUS SITUATION.
YOU SHOULD MONITOR LATER FORECASTS AND BE PREPARED TO TAKE ACTION
SHOULD FLASH FLOOD WARNINGS BE ISSUED.