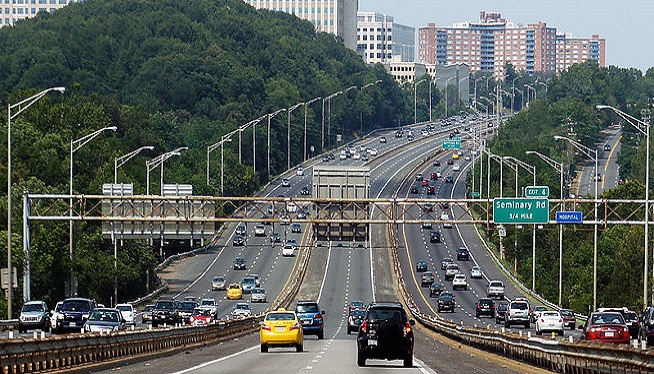 Steve Burns
WMAL.com
ARLINGTON, Va. – (WMAL) Public hearings are scheduled this week as the Virginia Department of Transportation finalizes its plan to bring High-Occupancy Toll lanes to Interstate 395 from Edsall Road to the Pentagon.
The plan calls for adding a third lane to the two reversible express lanes, and continuing the tolling scheme set up on Interstate 95 south of the Beltway. HOV-3 cars would ride free, while others would have the opportunity to pay to enter the express lanes.
"What we're trying to do is to give drivers an option to get from clear south of Stafford County to the D.C. line, essentially, by taking express lanes," VDOT spokeswoman Michelle Holland tells WMAL. "We're expanding on the system that's already built there to provide that seamless, uninterrupted trip for drivers."
Holland says no extra land would be needed to add the third lane. She expects the project to be completed sometime in 2019.
"It allows HOV drivers to continue to drive for free, but it also allows people who want to pay a toll to get on those lanes at any time," Holland says.
Just like the 95 Express Lanes, this project is a public-private partnership with Transurban. Arlington County initially opposed extending the HOT lanes to 395 when they were looked at for 95. The County, in a statement, says they are now open to the plan following comprehensive traffic studies and transit commitments.
"We will be providing an opportunity to review our design plan, and to get questions answered," Holland says.
Public hearings this week are scheduled in Arlington and Alexandria. Monday night's hearing is set for 6:30 at Wakefield High School in Arlington. Hammond Middle School in Alexandria will host Wednesday's hearing. Another hearing is scheduled for Nov. 30 at Bren Mar Park Elementary School in Alexandria.
Copyright 2016 by WMAL.com. All Rights Reserved. (PHOTO: Mariordo/Wikimedia)