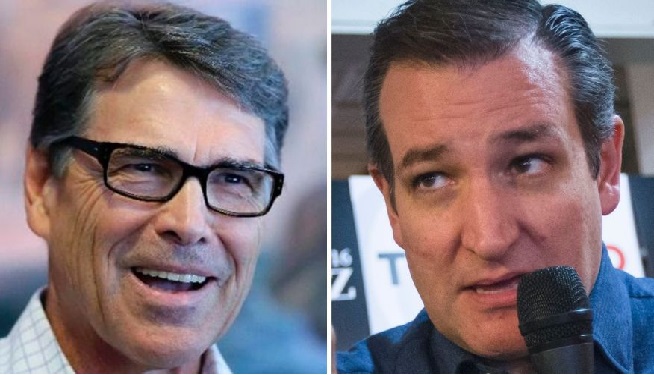 AUSTIN, TX — (CNN) Former Republican presidential candidate and Texas Gov. Rick Perry is endorsing Ted Cruz for president.
Perry explained his endorsement of the firebrand senator from his home state in an interview with Politico published Monday.
"Of those individuals of who have a chance to win the Republican primary, at this juncture from my perspective, Ted Cruz is by far the most consistent conservative in that crowd," he said.
Referencing the tight contest between Cruz and front-runner Donald Trump that has emerged out of the fractured Republican field, Perry added that the primary race "appears to be down to two people."
The former governor who dropped his 2016 presidential bid last September also pushed back on criticism that Cruz is too uncompromising to be an effective chief executive.
"You'll have with Ted Cruz that same result of, senators and others in the Washington establishment that are mad at him, find him to be hard to work with, they will find ways to work with him because they know he means what he says he means," he said.
And Perry argued that Cruz was the candidate best able to speak to the fierce anti-establishment sentiment that has defined the 2016 race thus far. "Gov. Scott Walker, Bobby Jindal, Rick Perry, Jeb's barely making an impact out there — those are very skilled, very successful, very experienced governors," he said.
"But the electorate doesn't want that. That's why we have elections, why we democratically select leaders."
Perry's high-profile support for Cruz comes at a critical juncture in the 2016 primary, with the Iowa caucuses just days away and endorsements beginning to pile up.
In the past week, Sarah Palin endorsed Trump's campaign, and the influential Iowa newspaper the Des Moines Register endorsed Republican Marco Rubio and Democrat Hillary Clinton. Conservative media star Glenn Beck also announced he is endorsing Cruz, while a number of Republican establishment figures, including former GOP presidential nominee Bob Dole, have publicly attacked Cruz.
Perry, who also ran for president in 2012, finished in fifth place in the Iowa caucuses that cycle with 10% of the vote.
The-CNN-Wire ™ & © 2016 Cable News Network, Inc., a Time Warner Company. All rights reserved. (PHOTO: AP)