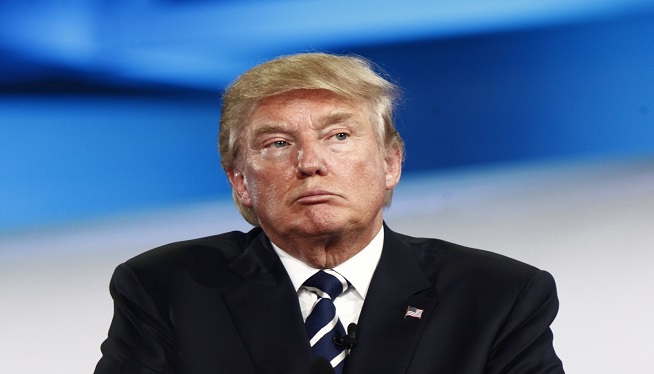 WASHINGTON — (CNN) It's the moment of truth for Donald Trump.
The brash real estate mogul has touted his business record and wealth, defied political correctness, commanded social media, insulted Mexicans, Muslims and his rivals, and refused to apologize for anything. And through the long preamble to the election season, Trump has dominated the Republican race at every turn.
Monday night's Iowa caucuses will offer the first real test of his ability to transform all the attention surrounding his candidacy into lasting electoral success.
Polls suggest that Trump, who has never stood for any political office before, stands on the verge of a potentially stunning victory that would shake the Republican establishment. He implored his supporters on Monday to make sure they show up to the caucuses.
At a rally in Cedar Rapids that featured Sarah Palin as a warm-up act, Trump refused to play the normal pre-election game of coy expectations management, saying media commentators had advised him to hedge his bets by saying he was just hoping for a good night.
"I don't want to do well, I want to win," Trump said.
"I want to win Iowa. It's going to send such a great message that we are not going to take it any more," Trump said, predicting a "tremendous" victory.
Texas Sen. Ted Cruz, Trump's main GOP rival, said he's feeling "at peace" about the caucuses.
"I'm feeling good," he said on Glenn Beck's radio program. "I'm feeling at peace and I'm feeling inspired."
If Trump emerges on top in Iowa, Cruz said he would "happily congratulate him."
Nervous night
Democrats are also bracing for a nervous night.
Front-runner Hillary Clinton will learn whether the painful history of her 2008 Iowa loss will repeat itself. Vermont Sen. Bernie Sanders' insurgent campaign is threatening to emulate the race of Barack Obama, who dealt her an ignominious defeat at the caucuses that upended the presidential race eight years ago.
Clinton expressed confidence Monday morning and reiterated her argument that Sanders won't be able to deliver on some of his ambitions policy proposals.
"I am a progressive who wants to make progress and actually produce real results in people's lives. That's what I'm offering," she said on CNN's "New Day." "I'm not overpromising."
Several hundred thousand Iowans in 1,861 precincts are expected to venture out with scattered snow showers in the forecast to exercise their cherished right to cast the first votes in the race that will determine the 45th President of the United States. The Iowa caucuses have huge symbolic power, and while they don't always predict who will be sworn in as the next president, they can offer a crucial boost to candidates who do well. They also spell doom for those who barely register and then do badly in the New Hampshire primary.
Sharply combative
On the eve of the caucuses, the race to win Iowa turned more sharply combative as candidates desperate for an edge dashed through a frenzied final day of campaigning.
Trump branded Cruz, his top rival, a "liar" and made a play for the Texas senator's evangelical power base. Cruz questioned Trump's conservative authenticity on abortion and religious liberty and appeared alongside Duck Dynasty's Phil Robertson, who branded same sex marriage "wicked" and "evil."
Clinton, meanwhile, clung to an inside-the-margin-of-error advantage over Sanders, who complained that he could not keep up with distortions of his record by her camp. And a former aide to President Barack Obama took to Twitter to accuse the Vermont Senator of repudiating their old boss' record.
In many ways, this year's caucuses are coming down to a choice for voters in both parties between visceral emotional connection to insurgent candidates like Trump and Sanders and the organizational machine politics of Cruz and Clinton.
The final Des Moines Register/Bloomberg Politics poll before the caucus, which was released on Saturday and has a strong record of predicting the results, showed two tense races.
Trump led Cruz 28% to 23% with Florida Sen. Marco Rubio in third at 15% in a race that may rest on whether the billionaire reality star can entice his army of anti- establishment voters to turn out and swamp Cruz's conservative coalition.
Clinton, hitting her stride on the stump in recent days, leads Sanders 45% to 42%, and faces a similar turnout equation: If Sanders can convince a new generation of young voters to show up, he has a good chance to upset the national front-runner.
A Quinnipiac University poll released on Monday also found Trump on top, beating Cruz 31% to 24%. This poll, however, put Sanders ahead of Clinton 49% to 46%.
Clinton vs. Sanders
Clinton is positioning herself as the most qualified commander in chief and the best person to save Obama's legacy. But Sanders is vowing to stage a "revolution" that will overturn a corrupt political structure bankrolled by a busted campaign finance system that he says is soft on Wall Street and favors the wealthy.
A win for Clinton would give her leeway to weather what could be a loss in New Hampshire next week and allow her to pivot to South Carolina, where minority voters could provide a firewall against a Sanders surge.
Driving home his advantage Sunday, Trump laid into Cruz, taking exception to claims by the Texas senator that he would save Obama's signature health care law if he made it to the White House.
"Look, Ted Cruz is a total liar. I am so against Obamacare. I've been saying it for two years in my speeches, I'm going to repeal and replace Obamacare," Trump said on ABC's "This Week." "I don't even know where he gets this."
Trump, hoping to influence religious voters who play a key role in Iowa, went to church with his wife, Melania, on Sunday. The billionaire swayed in time to the hymns at First Christian Church in Council Bluffs and took communion.
And seeking to peel away any wavering evangelicals from Cruz, he also linked up with Jerry Falwell Jr., a hero of the Christian right, who endorsed him despite deep skepticism among some believers about the depth of Trump's faith.
Cruz under pressure
Cruz is under intense pressure to deliver a victory on Monday night since Iowa is a state perhaps most receptive to his appeal to the most ideological conservatives and evangelicals. A defeat would cast doubt on his wider appeal in the delegate-rich southern states he hopes could pave the way to the nomination.
"I do think policy differences are fair game," Cruz told CNN's Jake Tapper on "State of the Union" as he took a jab at Trump.
"He and I have very, very different views on questions like life and marriage and religious liberty. He and I have very, very different views and records on questions like health care and Obamacare and amnesty."
Cruz also drew fire from his other flank, as Rubio seeks at least a third-place finish to make the case that he is a stronger alternative to Cruz and Trump than ex-Florida Gov. Jeb Bush, New Jersey Gov. Chris Christie and Ohio Gov. John Kasich.
"This whole notion Ted has that he's the only conservative, I think as people learn more about his record, they'll realize what he really (is) is very calculating," Rubio told Tapper.
Clinton's campaign was quietly optimistic that her get-out-the-vote effort would yield victory on Monday night.
"We've had an amazing grass-roots organizing effort," Clinton told CNN on Saturday. "I'm so proud of all the people who have put it together and the, literally, tens of thousands of volunteers that they've enlisted."
But Sanders also touted his Iowa organization, saying on "State of the Union" that he would have 15,000 volunteers knocking on doors in Iowa and making phone calls on his behalf.
Due to the intricate rules of the Democratic caucus, supporters of long-shot candidate former Maryland Gov. Martin O'Malley could be crucial, since they could have the option to line up with either Clinton or Sanders in a second vote in many precincts. That late support could hand either Sanders or Clinton a much-desired victory heading into New Hampshire and beyond.
The-CNN-Wire ™ & © 2016 Cable News Network, Inc., a Time Warner Company. All rights reserved.
(Photo: CNN)