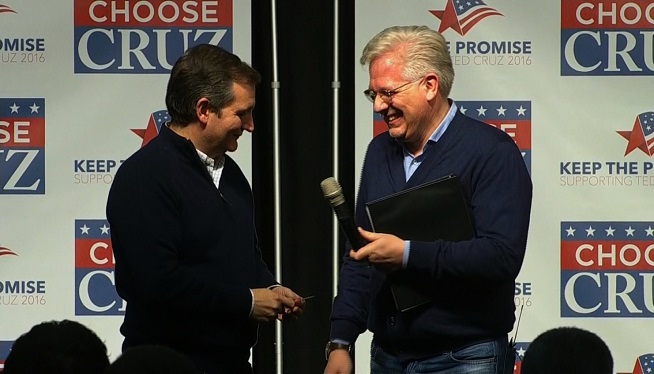 WASHINGTON — (CNN) Sarah Palin told CNN's Jake Tapper on Monday that she took issue with recent mailers distributed by Ted Cruz's campaign to "shame" Iowa voters into caucusing, adding that it "wasn't a tough decision" to back Donald Trump over the Texas senator.
The letters, which came to light over the weekend, gave the recipients, along with their neighbors, poor grades based on their individual voting history. On one side, the mailer reads: "ELECTION ALERT: VOTER VIOLATION," "PUBLIC RECORD" and "FURTHER ACTION NEEDED." To boost voters' scores, the mailer says, they need to get out and vote.
"What I've been concerned about is what the Cruz campaign has done to previous voters, potential voters, who weren't able to make it to a caucus, maybe because it's a difficult process," Palin told Tapper on "The Lead."
"They were shamed. They and their neighbors being sent report cards saying, you know, 'You got an F because you didn't vote. You didn't do what we think you should have done,'" Palin added. "That, to me, is very reflective of politicians thinking that they know best or that they know the intricacies of your life so they can make decisions for you. So that's what I've been concerned about with this whole caucus process."
Palin added that the mailers were "very offensive" and said they were part of an effort to "intimidate" voters.
"I think that's very shameful," Palin said.
Asked about the mailers on Saturday, Cruz was defiant.
"I will apologize to no one for using every tool we can to encourage Iowa voters to come out and vote," he told reporters in Sioux City, Iowa.
Last month, Palin endorsed Trump, a boost for the billionaire in his tight race with Cruz in Iowa, where she remains a popular figure with conservatives. Tapper asked Palin on Monday what made her change her mind from December, when she told the CNN anchor she was torn between the two leading Republicans.
"(The choice) became much less difficult once some inconsistencies started coming out about Cruz's position on amnesty, on building that wall (along the Mexican border), and securing our jobs and our homes via tighter borders," Palin said.
"You know, I just started looking a little bit closer and realizing we just don't need more of the same. We need that fresh, energetic, can-do spirit that Trump has brought with him from the private sector, which I love. So yeah, end of the day, it wasn't a tough decision."
The-CNN-Wire ™ & © 2016 Cable News Network, Inc., a Time Warner Company. All rights reserved.
(Photo: CNN)