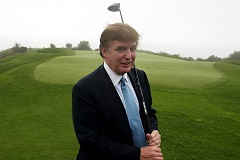 BY LARRY O'CONNOR
Since 1962 the PGA has included a stop at the Trump Doral resort in Miami on its tour. But, starting in 2017, the tour will abandon the course owned by presumptive GOP nominee Donald Trump for a course in Mexico City.
In December, the PGA signaled that they might dump the Trump venue from the tour in light of the GOP candidate's positions on illegal immigration and tougher scrutiny for Muslims seeking to gain entry into the United States.
Today, Trump issued an official statement on the matter and points to the loss of American jobs for the sake of, what appears to be, the PGA's attempt to mollify the politically correct mob that started a petition months ago to bully the group into making this move.
The PGA may be terrified of the PC Police and angry mobs of perpetually offended whiners but one of their greatest champions is not. Jack Nicklaus officially endorsed Trump last week.
Read the full story on HotAir.com