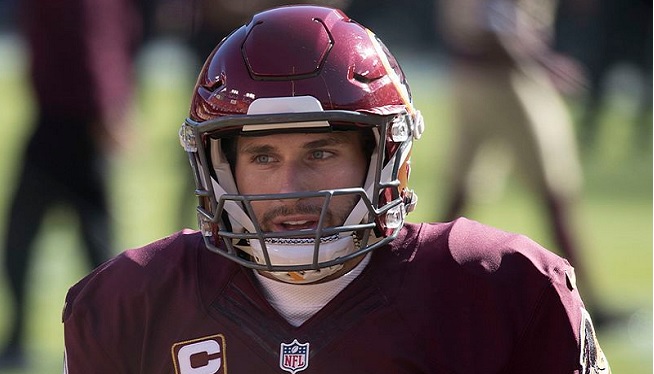 LANDOVER, MD — (WMAL) If the Washington Redskins make the post-season, they will have the the Dallas Cowboys to thank. If they don't, they'll only have themselves to blame.
The Cowboys came back from a 20-17 deficit Sunday night to beat Tampa Bay, 26-20, moving themselves a step closer to clinching the NFC East, and putting the Redskins back in control of their own destiny for the postseason.
The Redskins have no room for error, but at 7-5-1, they will win a Wild Card spot – mostly likely the sixth and final seed – if they can win out, starting with tonight's 8:30 pm matchup with Carolina at Fed Ex Field.
The Panthers (5 – 8) are playing only for pride, as the reigning NFC Champions were officially eliminated from playoff contention on Sunday.
But Washington is a different story. The Redskins, thanks to the tie they earned in their October 30th London game against Cincinnati, are a half-game ahead of Tampa Bay and the resurgent Packers for that final playoff spot, but that slim margin will hold up with Washington wins over Carolina, Chicago and the New York Giants.
The Redskins are 7-point favorites Monday night against the Panthers, whose season was lost early on when they opened the season with five straight losses after allowing their defensive star, Josh Norman, to leave in free agency and sign with the Redskins.
Norman admits he's been looking forward to playing his former team for the first time, and he's been working to remain focused on preparation for the game.
"I don't know. I think come Monday night those emotions will probably come out and show themselves. I don't know what it will be like because it's my first time being in something like this," said Norman.
The Redskins, with their porous defense, will have their hands full with Panthers quarterback Cam Newton, who was last season's Most Valuable Player, and whose size and legs can beat teams, even if his arm fails him as it has at times this season. Newton is coming off four straight games when his completion percentage was below 50 percent.
After tonight's game, the Redskins face another short week, as they travel to Chicago to face the Bears on Christmas Eve. The Bears suffered a tough loss to the Packers Sunday, coming back from a 27-10 second half deficit to tie the game, only to lose it on a short field goal after Green Bay's Aaron Rodgers completed a 60-yard bomb to Jordy Nelson with less than a minute left.
The Redskins' season will end on New Year's Day in Landover against the Giants, who may very well have the first NFC Wild Card slot wrapped up by then, and could rest some starters in the season closer.
Of course, the Redskins have no room to think like that, or for that matter, to think ahead to season's end.
Their season currently has only one game that matters, and that's tonight in Landover.
Copyright 2016 by WMAL.com. All Rights Reserved. (PHOTO: Keith Allison Flickr/Wikimedia Commons)