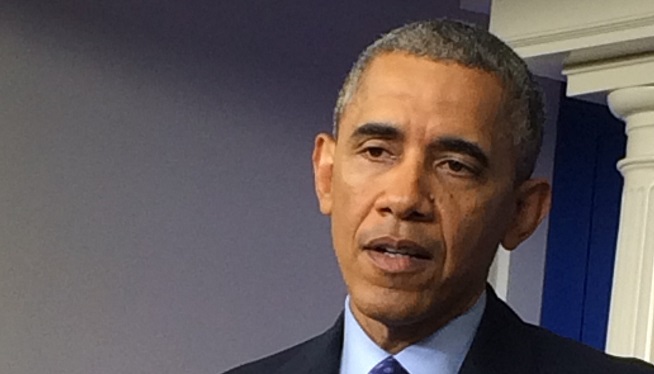 (CNN)– President Barack Obama on Wednesday reaffirmed the U.S. effort aimed at "dismantling and destroying" the ISIS network.
He said the "barbarous" nature of the organization, also known as ISIL, only unifies the world and strengthens the determination of the coalition combating the terrorists to wipe them out.
"ISIL is on the defensive," he said. "We have momentum."
Obama spoke in the main lobby of the CIA compound in Langley, Virginia, where he'd previously visited only twice, both in his first term. Before his remarks he convened a meeting with top national security officials centered on ISIS.
The White House said Vice President Joe Biden, Secretary of State John Kerry and National Security Adviser Susan Rice were among the nearly three dozen officials who attended the session. Defense Secretary Ash Carter — currently traveling in Asia — participated via secure video teleconference.
It was the third time Obama had gathered his team to discuss the terror fight at sites outside of the typical gathering place in the White House Situation Room. Late last year, he traveled to the Pentagon to confer with military leaders about the battle, and in February, visited the State Department to amplify diplomatic efforts to combat ISIS.
Obama has said he is working to better explain his efforts against ISIS, particularly by underscoring areas where the U.S.-led coalition had made progress on the ground in Syria and Iraq. He'll travel next week to Riyadh, Saudi Arabia, to further coordinate efforts with leaders from Gulf states.
He'll also consult allies in London and Germany to press for greater cooperation on the ISIS fight, particularly in sharing intelligence that could help thwart the kind of ISIS-linked attacks that have rocked Brussels and Paris within the last year.
Obama has said allied nations need to better coordinate the way they share intelligence about fighters returning from Syria to prevent similar incidents.
While Obama and his aides have cited group gains against ISIS, the massacres in Europe have shaken the American public's confidence in Obama's plans.
Obama has also tasked his national security team with devising ways to scale up the ISIS fight. Defense officials say one idea under consideration is sending an additional 250 U.S. Special Operations forces into Syria to advise rebels groups who are fighting the terror organization.
The-CNN-Wire ™ & © 2016 Cable News Network, Inc., a Time Warner Company. All rights reserved.