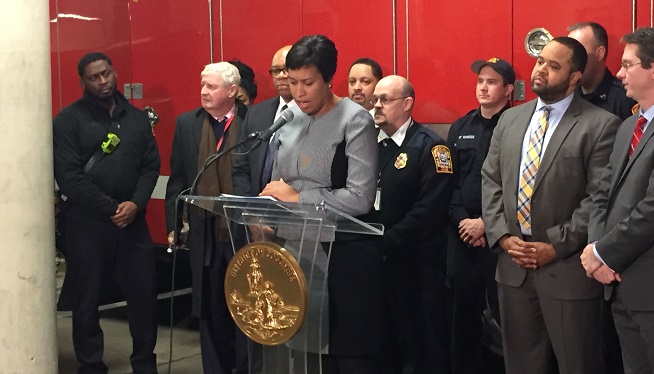 Steve Burns
WMAL.com
WASHINGTON – (WMAL) After getting thrown under the proverbial railcar by Metro in a court filing relating to the L'Enfant Plaza smoke incident two years ago, D.C.'s Fire Chief and Mayor held a press conference where the optics sent more of a message than the words.
Standing in front of about a dozen firefighters and the bright red Rescue Squad 1 truck, and directly across the street from Metro headquarters, Mayor Muriel Bowser reaffirmed her support for the department, but refused to comment on the pending litigation.
"I remain very confident, and everyone should know, that the District will defend itself and defend itself vigorously," Bowser said. "(D.C. firefighters) are the most extraordinary people that I've met, certainly, putting their own lives in danger each and every day."
The press conference came about after Metro tried to absolve itself of all responsibility in the new filing, insisting none of the responsibility to help passengers in a smoke or fire incident falls to them. Instead, they blamed D.C. Fire for slow response times and poor communication.
D.C. Fire Chief Greg Dean also gave a muted response, outside of making his general disagreement known.
"Thats their opinion; we have ours," Dean told reporters.
Dean insisted training, drills, and communication have all improved since the January 2015 incident, in which one person was killed and dozens injured when smoke filled a Yellow Line train outside L'Enfant Plaza. Metro's filing came in a pending lawsuit brought by families of those injured and killed.
"1,600 of our members have been trained on tunnel operations. We do quarterly drills regionally with all our partners," Dean said. "We have a great fire department. We think our people are well trained, ready to go, and we'll continue to improve on that."
Dean was brought in to the fire department by Bowser two months after the incident, in March 2015.
The National Transportation Safety Board placed blame on both agencies, indicating Metro sent the train into the tunnel even after getting reports of smoke, and waited 18 minutes to call 911 after those first smoke reports. Many other procedural steps took a turn for the worse, including fans that were sucking air into the train instead of pushing it out.
The NTSB pointed out D.C. Fire's response was also slow and unorganized, namely the failure to set up a command post, and an underground radio communication outage that led rescue crews to go down the wrong tunnel twice before finding the trapped train.
Copyright 2017 by WMAL.com. All Rights Reserved. (PHOTO: WMAL/Steve Burns)