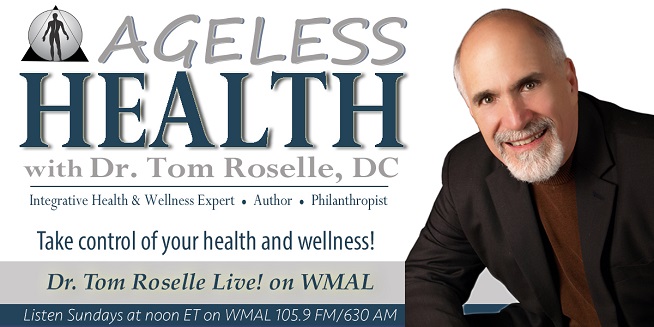 PROGRAM ALERT: 
Tune into WMAL 105.9 FM / AM 630 or live stream HERE on Sunday 7/2/17 at 12 Noon.
A Healthy Lifestyle for a Long Lifespan
Special Guest, Washington Redskins' Quarterback Kirk Cousins
Dr. Tom Roselle, DC and special guest Washington Redskins' quarterback Kirk Cousins discuss living a healthy lifestyle and the importance of health and wellness for a long lifespan. Cousins offers some routines that help him prepare mentally and physically for success including kinesiology, muscle training & recovery, chiropractic, diet & nutrition, brain exercises, and ample rest & sleep.
About Dr. Tom Roselle Live!
Dr. Tom Roselle Live! is a health and wellness radio talk show that broadcasts live in Washington D.C.; and features health and wellness information on Chiropractic, Acupuncture, Applied Kinesiology, Nutrition, and several other aspects of wellness care and integrative and functional medicine that affects all family members, including children and seniors.
Tom Roselle Live! aims to help listeners achieve optimal levels of health, vitality, and wellness. The health talk show airs every Sunday at 12 noon ET on WMAL 105.9 FM and AM 630 in Washington, D.C., Maryland, Virginia and West Virginia.
Get the latest on proven Natural Health and Wellness Care methods and up to date information and opinion on issues affecting your health from Dr. Tom Roselle, D.C., PAK, PAc, DCCN, DCBCN, Director of Roselle Center For Healing in Fairfax, Virginia.
Dr. Roselle brings almost 40 years of health care experience as a board certified Chiropractor, Acupuncturist, Nutritionist and Applied Kinesiologist.
About Dr. Tom Roselle, DC
Dr. Tom Roselle, DC, PAK, PAc, DCCN, DCBCN is an integrative health & wellness expert, author, talk show host, practicing health care professional, facility director, philanthropist and Chairman of the International College of Applied Kinesiology. He is well known for his mid-Atlantic health radio talk show, "Dr. Tom Roselle Live!," his acclaimed self-health book, "Ageless Health: Health Is A Do-It-To-Yourself Program" and his twice Emmy® award nominated television broadcast, "Ageless Health – The Special.
In 1972, Dr. Tom Roselle graduated with a Bachelor's Degree from Kent State University. He went on to receive a Doctor of Chiropractic Degree from the National College of Chiropractic in Lombard, Illinois in 1977 and Certifications for Acupuncture and Nutrition. Dr. Roselle has practiced in New York and Virginia since 1977. He has served on the Boards of Directors of the Northern Virginia Chiropractic Society and New York State Chiropractic Association, has held multiple positions with local and state offices, and has been an educator at the National University of Health Sciences, the International College of Applied Kinesiology, Northern Virginia Community College and Jamestown Community College.
Contact Information:
Dr. Tom Roselle, DC
Roselle Center for Healing
8550 Arlington Blvd., Ste #325
Fairfax, VA 22031
703-698-7117
dtr@drtomroselle.com
rtr@rosellecare.com
Or visit:
www.drtomroselle.com
www.drtomlive.com
www.rosellecare.com