The WMAL Free Speech Forum is back, Sunday, May 7th at The Birchmere!
Join Brian Wilson, Chris Plante and Larry O'Connor for an evening of food, drinks and conversation about the first 100 days of the Trump Administration. They'll take the stage at 7:00pm, discussing all the highs and lows in politics today, plus taking your questions. 
Seating is general admission and first-come, first-served. Food and drinks are available for purchase, so please plan to enjoy dinner before the show!
Check out The Birchmere menu HERE.
Tickets are $40 per person + taxes/fees. All attendees must be 15+. Tickets are non-refundable and non-transferable.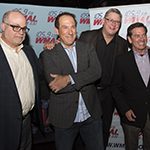 Thank you to everyone who joined Brian Wilson, Larry O'Connor, Chris Plante, and Mark Levin at The Birchmere for our second Free Speech Forum!… MORE