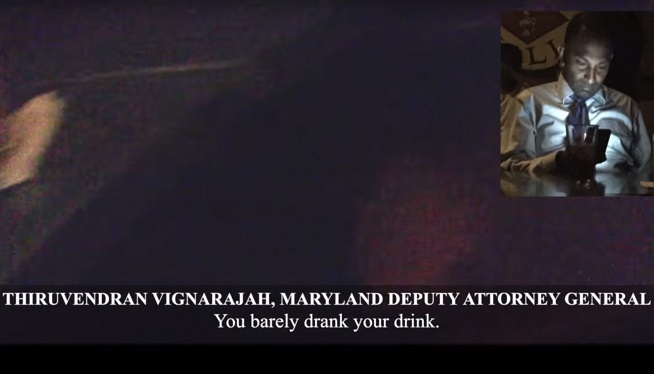 Steve Burns
WMAL.com
WASHINGTON — (WMAL) In an undercover video recorded by an activist outfit named Project Veritas, Maryland Deputy Attorney General Thiru Vignarajah is seen flirting with a woman secretly recording him in a bar and hotel room, as well as divulging information he says the public shouldn't know and admitting his own ineptitude at the position he holds.
In the recording, Vignarajah admits "it would be really bad" if the public heard about Maryland's plan to join President Obama's lawsuit for the Clean Power Plan before the information was officially released. Vignarajah, who is married, is seen continually flirting with the woman, posing as a law student. He also admits to her he sometimes doesn't feel qualified for his job.
"It's some of the most unprofessional conduct I've ever seen by a public official. There's no way he should remain in office," former U.S. Attorney for D.C. Joe DiGenova told WMAL. "Attorney General (Brian) Frosh should remove him immediately."
DiGenova said the video calls into question Vignarajah's ethics and competence. "His conduct threatens the impartial administration of justice in the State of Maryland."
In a statement to WMAL, Frosh's office said "Mr. Vignarajah is skilled prosecutor and experienced manager who was elected president of the Harvard Law Review and clerked for a Supreme Court Justice. He is not only brilliant. He's also self-effacing, humble and human."
"If that's the position of the Attorney General, he should say that to every defendant who appears in his courtroom," DiGenova said. "I'm utterly shocked the Attorney General is using as an excuse that the Deputy Attorney General a human being. I think we all know he's a human being. That's not the point. He's the Deputy Attorney General. He has public responsibilities."
Frosh's office told the Associated Press "there was no confidence to break," saying Vignarajah only undercut a press release coming later this week.
Vignarajah also told the woman Frosh, is not interested in running for Governor, calling it "disappointing" for a lot of people, despite being one of the most prominent Democrats in the state.
"That will probably encourage a lot of other folks who are thinking about running to start laying the groundwork for that run," St. Mary's College political analyst Todd Eberly told WMAL. "It's hard to rival the recognition that Frosh and (Comptroller Peter Franchot) have right now."
Frosh, he said, is more progressive than Franchot, who leans more fiscally conservative. Plus, any Democrat would have an uphill battle thanks to Governor Larry Hogan's current popularity among Republicans and Democrats alike.
"Because of the timing of elections in Maryland, he would have to give up the Attorney General position just to seek the nomination," Eberly said. "He'd give up a job he's certain to keep just for the opportunity to maybe be the nominee for a job that he might then win. That's a lot to risk when you're already in a pretty darn good job."
Copyright 2015 by WMAL.com. All Rights Reserved. (PHOTO: Project Veritas)