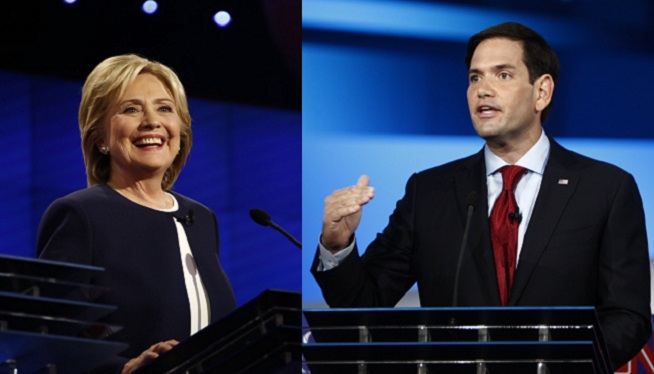 DES MOINES — (CNN) The Des Moines Register on Saturday endorsed Republican Florida Sen. Marco Rubio and Democrat Hillary Clinton for their parties' presidential nominations, nine days before Iowa caucus-goers head to the polls in the first-in-the-nation voting state.
The editorial board of the Register, Iowa's largest newspaper, interviewed every major 2016 Republican and Democratic candidate, some twice, with the exception of Donald Trump and Ted Cruz.
"They declined the board's invitation for an interview, but doing so did not disqualify them from consideration for the endorsement," according to a press release from the Register earlier this week.
The race has tightened considerably with Cruz leading Trump by just three points in a Register poll released last week. Clinton leads Bernie Sanders by just two points.
The endorsements are significant as many likely caucus-goers have not yet decided on a candidate. In Register polls released last week, 56% of Republicans and 40% of Democrats said they could still be persuaded to support another candidate as their first choice.
But the paper hasn't chosen caucus winners in recent years. In 2012, the paper endorsed Republican candidate Mitt Romney, and Sen. Rick Santorum won the caucuses by a slim margin. In 2008, the paper endorsed John McCain and Clinton, although Mike Huckabee and Barack Obama won in their respective parties.
The-CNN-Wire ™ & © 2016 Cable News Network, Inc., a Time Warner Company. All rights reserved. (Photo: CNN)