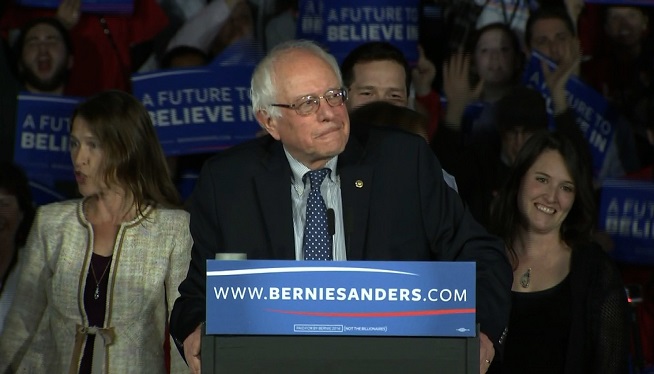 DES MOINES (CNN) — Vermont Sen. Bernie Sanders touted his Iowa caucuses performance as proof he had started a political revolution, praising the young people who turned out to support him for fueling his dead heat finish with Hillary Clinton.
"We're revitalizing American democracy and if we're going to change America, that's what we've got to do," Sanders told CNN's Chris Cuomo on "New Day" on Tuesday, just after landing in New Hampshire. "In the last election — the midterm election — 80% of young people didn't vote. I am very proud we're bringing young people all over this country into the political process."
According to entrance poll data, more than 80% of voters aged between 17-29 years old supported Sanders. Clinton won about 60% of voters aged 50 and older.
But the self-described democratic socialist said he believes his record will appeal to those older voters in future primary states.
"There has been no United States senator who has been stronger on senior issues, not only on defending Social Security, but on the need to expand Social Security benefits. People can't make it on $12,000 to $13,000 in Social Security benefits," Sanders said.
Sanders also said he is looking to build on his appeal with non-white voters, a group that will take on a larger percent of Democratic voters after the Iowa and New Hampshire contests.
In Iowa, only 9% of the caucusgoers were not white, according to entrance poll data. Of those, Clinton won nearly 6-in-10 voters.
"We lost (the non-white vote), but that gap is growing slimmer and slimmer between the secretary and myself. I think you'll find as we get to South Carolina and other states, that when the African-American community, the Latino community, looks at our record, looks at our agenda, we're going to get more and more support," Sanders said.
His Iowa performance — whether ultimately considered a narrow win, loss or a tie — is considered a win in his book.
"Whether we lose by a fraction of a point or we win or whatever, we're very proud of the campaign that we ," he said. "I think the significance is, for folks who did not think Bernie Sanders could win, that we could compete against Hillary Clinton, I hope that that thought is now gone."
Sanders said he looks forward to competing in New Hampshire, which borders his home state of Vermont, and where he holds a double-digit polling lead.
"We are going to fight here in New Hampshire, looking forward to winning here," he said.
New Hampshire voters will go to the polls in one week, casting ballots on February 9.
The-CNN-Wire ™ & © 2016 Cable News Network, Inc., a Time Warner Company. All rights reserved. (PHOTO: CNN)