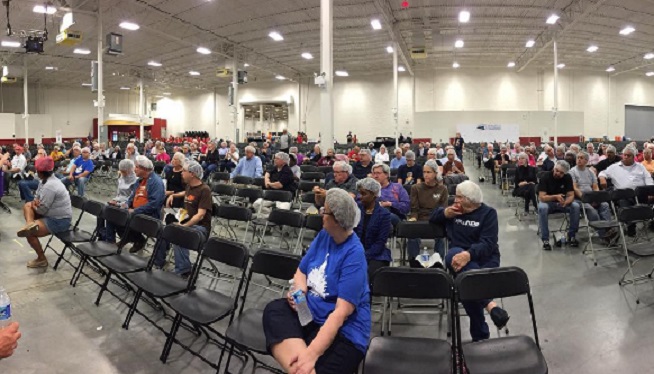 Bridget Reed Morawski
WASHINGTON (WMAL) — Approximately 5 million meals will be packed and shipped across the globe this weekend by thousands of local volunteers for the 2016 Food Fight, a national effort to combat children's hunger.
The packing event, to be held May 13-15 at the Dulles Expo Center, aims to pack enough meals to feed 14,000 children around the world for a year.
Working in an assembly line style to get the job done, volunteers will ship out the meals to partner organizations, who will then disburse the meals throughout their own local communities.
Though organizers aimed to sign up 30,000 volunteers, by Thursday they had only signed up just over 13,000. They also are short of reaching their financial goals.
"It's going to take a million dollars just to fund the meals alone, and we are still in the process of raising money for that," said Kim Feld, the event coordinator of the 2016 Food Fight. As of Thursday, organizers had only collected $590,000 of the desired one million dollars.
The event is organized by Feed My Starving Children, a Christian non-profit that organizes volunteers across the country to feed children around the world. The national group is organizing this packing event in conjunction with the local Northstar Church Network. The network includes 170 churches across Northern Virginia, though volunteers are sought from D.C., Virginia, and Maryland communities.
The meals are basic, but have enough nutrients to make a larger impact. The packets will contain rice, soy nuggets, dehydrated vegetables, and vitamins – enough to keep a child content and well-nourished.
The organization is trying to also make a local impact, asking volunteers to bring canned food items. The Capital Area Food Bank will be collecting donated goods and disbursing them throughout the region.
Potential volunteers can go to the event's website (http://www.2016foodfight.com/) to sign up for a shift. The event will be held Friday and Saturday from 9:00am-10:00pm, and Sunday from 9:00am-5:30pm.
Feed My Starving Children estimates that 6,200 children die every day from starvation or hunger-related diseases.
Copyright 2016 by WMAL.com. All Rights Reserved. (Photo: Feed My Starving Children).