VIRGINIA BEACH, Va. (AP) — The Democrat in a closely watched eastern Virginia state Senate race appeared headed to victory after his opponent conceded on Wednesday in the special election.
The outcome appears to boost the Democrats' narrow control of the state Senate, with abortion among the issues expected to be debated during the legislative session that also starts Wednesday. Republicans control the House of Delegates.
Democrat Aaron Rouse was leading Republican Kevin Adams in the special election held Tuesday for state Senate District 7 with some absentee and provisional ballots still to be counted, according to the Virginia Department of Elections.
Adams issued a statement congratulating Rouse and calling the former NFL player Senator-elect.
"While the results last night were not what we wanted, I am proud of the campaign that we ran and so thankful for everyone who believed in me and this campaign along the way," Adams said.
Rouse, who declared victory Tuesday night, would give Democrats a 22-18 margin.
"No rest for the weary – tomorrow, we head to Richmond to get to work for Virginia families," he said in a tweet.
The Associated Press is not tabulating or calling the race. Rouse will be sworn in once the results are certified.
The 7th District seat, representing mostly Virginia Beach with a few thousand Norfolk voters, was open after Republican state Sen. Jen Kiggans was elected to Congress in November. She defeated U.S. Rep. Elaine Luria, a Democrat.
The 7th District has been represented by Republicans for over a decade. The winner will finish the last year of Kiggans' term. Every seat in the General Assembly will be on the ballot in November, with candidates running under new district boundaries due to redistricting.
The hard-fought race drew outsized attention after Democrats sought to make it a referendum on abortion, which lawmakers will be debating for the first time since the U.S. Supreme Court overturned Roe v. Wade.
Republican Gov. Glenn Youngkin has asked lawmakers to send him a 15-week abortion ban with exceptions for rape, incest and the life of the mother. That would face long odds even in a narrowly divided Democrat-controlled Senate. Picking up an extra seat would give the party more breathing room, particularly since one caucus member, Sen. Joe Morrissey, personally opposes abortion and has expressed a willingness to consider additional restrictions. Ties in the chamber are broken by GOP Lt. Gov. Winsome Earle-Sears, who presides over it.
Rouse, the founder of a nonprofit that focuses on childhood education, was elected to the Virginia Beach city council in 2018. He's a Virginia Tech graduate who was drafted by the Green Bay Packers in 2007 and also played for the Giants and the Cardinals.
Rouse made abortion rights a centerpiece of his campaign, running TV ads on the topic and pledging to be a "last line of defense for women's reproductive rights in Virginia."
He also pledged to combat crime and gun violence and support public education.
Adams retired from the Navy as a lieutenant commander after a 26-year career and started a handyman business. He pledged to cut taxes, enact tough-on-crime penalties, improve veterans services and support the governor's plan for a 15-week abortion ban with exceptions.
Adams and Rouse were about neck-and-neck in fundraising, according to the most recently filed reports.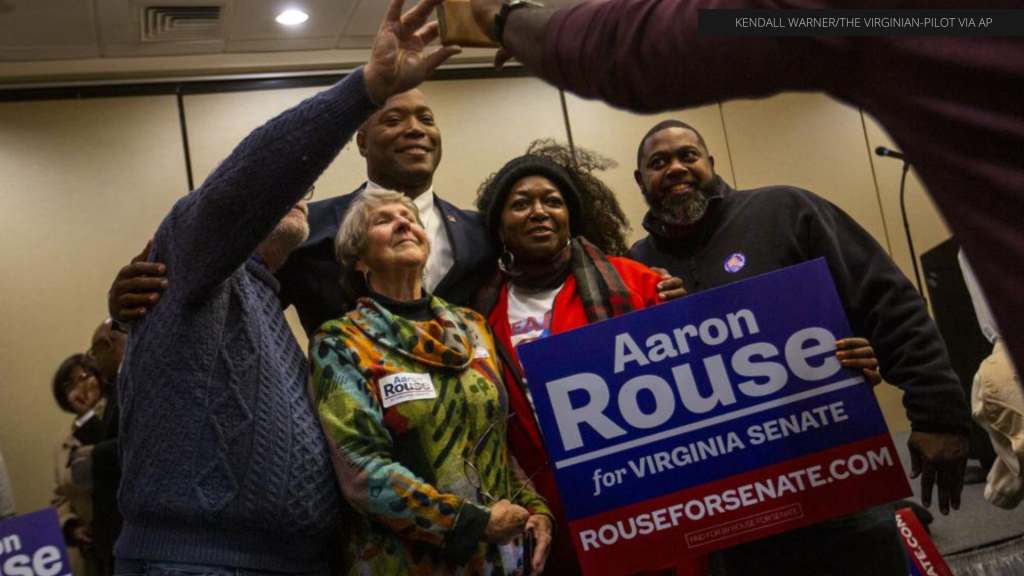 Copyright 2023 by the Associated Press. All Rights Reserved.
Tune in live for more on the stories that matter to you: WMAL.com | WMAL app | "Alexa, play W-M-A-L"
Follow WMAL on social media: Twitter, Facebook, Instagram, Youtube, Rumble, Gettr and Parler