ANNAPOLIS, Md. (AP) — Maryland Gov. Wes Moore was sworn in as the state's first Black governor on Wednesday, punctuating his inauguration with references to Black history that included an acknowledgement of the enslaved people who once arrived by ship near the state Capitol.
Before his inaugural speech, Moore attended a wreath-laying ceremony at the Annapolis City Dock, which was once a regional slave port and the site of a memorial to enslaved African Kunta Kinte, who arrived there in 1767 and was written about in Alex Haley's book "Roots."
Moore was joined by other Black leaders at the ceremony on a bright sunny morning, including Maryland Rep. Kweisi Mfume, Attorney General Anthony Brown, former Lt. Gov. Michael Steele, and former Massachusetts Gov. Deval Patrick, who was the second Black governor elected in the nation's history in 2006. Virginia's Douglas Wilder was the first Black governor elected in 1989, and Moore is the nation's third.
"I feel lifted up and encouraged that Black talent has been recognized and has an opportunity to come forward," Patrick said in an interview with The Associated Press after the ceremony.
Steele, a former chairman of the Republican National Committee who was Maryland's first Black candidate elected statewide, described the inauguration as an exciting day for the state.
"It's interesting to watch these things unfold in a world in which there's still resistance to it, but we're excited here in Maryland and I'm honored to be a part of it today and be a part of that line as well," Steele said while walking in a procession up the city's Main Street.
Former NAACP president Ben Jealous, Baltimore Mayor Brandon Scott and former Lt. Gov. Kathleen Kennedy Townsend also attended.
Moore took the oath of office using a Bible owned by Frederick Douglass, a Marylander who escaped slavery on the state's Eastern Shore before going on to become an author and famed abolitionist.
When Moore gives his inaugural speech as Maryland's 63rd governor, he will be looking out on a mall in front of the Capitol with a statue of U.S. Supreme Court Justice Thurgood Marshall.
One thing Moore won't see: The statue of U.S. Supreme Court Justice Roger B. Taney, who authored the infamous 1857 Dred Scott decision declaring that Black people could not be U.S. citizens. That statue stood for nearly 145 years outside the Maryland State House before Moore's predecessor, Republican Gov. Larry Hogan, ordered it removed in response to racial violence in Charlottesville, Va.
Moore's running mate, Aruna Miller, also will be making history on Wednesday. She is the first immigrant and first Asian American elected statewide in Maryland.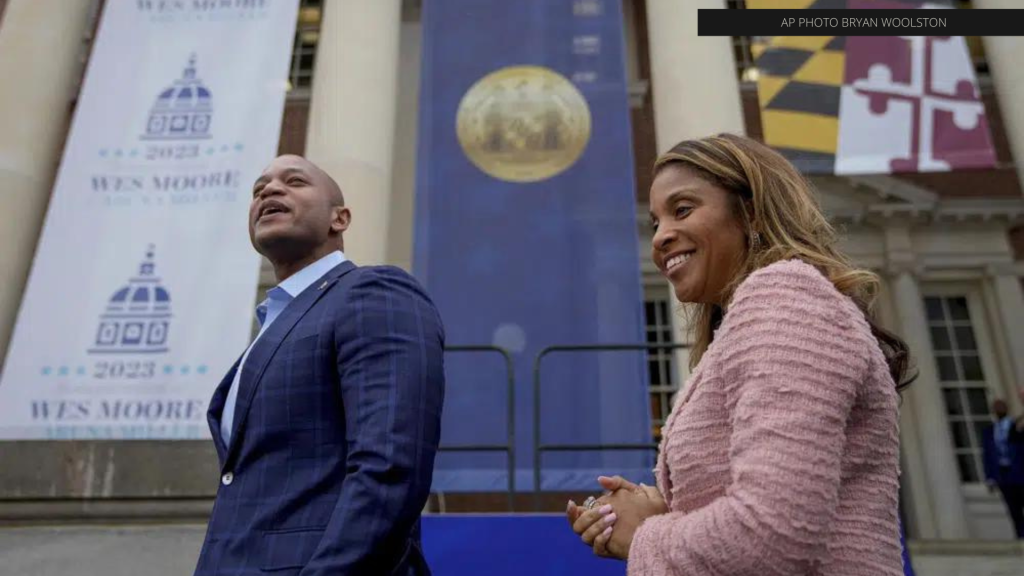 Copyright 2023 by the Associated Press. All Rights Reserved.
Tune in live for more on the stories that matter to you: WMAL.com | WMAL app | "Alexa, play W-M-A-L"
Follow WMAL on social media: Twitter, Facebook, Instagram, Youtube, Rumble, Gettr and Parler