EAST PALESTINE, Ohio (AP) — The U.S. Environmental Protection Agency ordered Norfolk Southern on Tuesday to pay for the cleanup of the East Palestine, Ohio, train wreck and chemical release as federal regulators took charge of long-term recovery efforts and promised worried residents they won't be forgotten.
Speaking to reporters near the derailment site, Norfolk Southern's CEO promised to undertake necessary steps to ensure the long-term health of the community and become a "safer railroad."
EPA used its authority under the federal Superfund law to order Norfolk Southern to take all available measures to clean up contaminated air and water. It also said the company would be required to reimburse the federal government for a new program to provide cleaning services for impacted residents and businesses.
"Norfolk Southern will pay for cleaning up the mess that they created and the trauma that they inflicted on this community," EPA Administrator Michael Regan vowed at a news conference in East Palestine. "I know this order cannot undue the nightmare that families in this town have been living with, but it will begin to deliver much-needed justice for the pain that Norfolk Southern has caused."
He warned that if Norfolk Southern fails to comply, the agency will perform the work itself and seek triple damages from the company.
EPA planned to release more details on the cleanup service for residents and businesses, which it said would "provide an additional layer of reassurance."
The agency said its order marked the end of the "emergency" phase of the Feb. 3 derailment and the start of long-term remediation.
Norfolk Southern CEO Alan Shaw reiterated promises to restore the site and invest in the community.
EPA orders Norfolk Southern to pay for Ohio train cleanup
The EPA has ordered Norfolk Southern to pay to clean up contaminated water and air from the train derailment in Ohio.
"From day one, I've made the commitment that Norfolk Southern is going to remediate the site, we're going to do continuous long-term air and water monitoring, we're going to help the residents of this community recover, and we're going to invest in the long-term health of this community. And we're going to make Norfolk Southern a safer railroad," he told reporters.
Jeff Zalick, who lives with his 100-year-old mother just blocks from the derailment site, said he's waiting for the home to be cleaned before moving back. He said there's still a chemical smell inside, though not nearly as bad as a week ago.
The walls need scrubbing, and he wants air purifiers installed before allowing his mother back.
"I just want to make sure she's safe," he said. "She's ready to come home. She cries every day."
In a tweet sent after the EPA announcement, President Joe Biden said the Trump administration and other elected officials have hampered efforts to improve rail safety.
"We'll continue to hold rail companies accountable when they fail to put safety first. But first, we've got Norfolk Southern's mess to clean," he said. "I want affected residents to know that we've got your back."
EPA's move to compel Norfolk Southern to clean up came nearly three weeks after more than three dozen freight cars — including 11 carrying hazardous materials — derailed on the East Palestine outskirts, near the Pennsylvania state line, prompting an evacuation as fears grew about a potential explosion of smoldering wreckage.
Officials seeking to avoid an uncontrolled blast intentionally released and burned toxic vinyl chloride from five rail cars, sending flames and black smoke high into the sky. That left people questioning the potential health impacts even as authorities maintained they were doing their best to protect people.
Ohio Gov. Mike DeWine assured residents they will not be left to handle the aftermath on their own once public attention turns elsewhere.
"We understand that it's not just about today, it's not just about two weeks from now," he said. "People have long-term concerns, and we're going to do everything we can to stay at this."
Already, 4,600 yards of contaminated soil and 1.1 million gallons of contaminated water have been removed, DeWine said. But he said Norfolk Southern failed to address the contaminated soil underneath its tracks before repairing them and running freight again. He said the company would have to take the tracks back up and remove the soil.
Pennsylvania Gov. Josh Shapiro blasted Norfolk Southern over what he called its "failed management of this crisis," saying the company chose not to take part in a unified incident command, and provided inaccurate information and conflicting modeling data.
"The combination of Norfolk Southern's corporate greed, incompetence, and lack of concern for our residents is absolutely unacceptable," said Shapiro, speaking at the news conference with Regan, DeWine and other officials.
Shapiro said his administration had made a criminal referral of Norfolk Southern to the Pennsylvania attorney general's office. DeWine said Ohio's attorney general had launched an investigation.
EPA said it has tested indoor air quality at 550 homes so far, with outside air being monitored via aircraft, mobile vans and stationary instruments.
Still, Regan said he is not sure if EPA is testing for dioxin, a carcinogen, as some lawmakers and advocates requested.
Under the so-called Superfund law, EPA has authority to direct those responsible for contamination or hazardous waste to clean it up. EPA can fine the railway up to $70,000 a day if the work is not completed. EPA can also do the work itself if necessary and bill Norfolk Southern triple its costs.
Separately, Transportation Secretary Pete Buttigieg announced a package of reforms Tuesday and called on railroad operators to take immediate steps to improve safety, such as accelerating the planned upgrade of tank cars.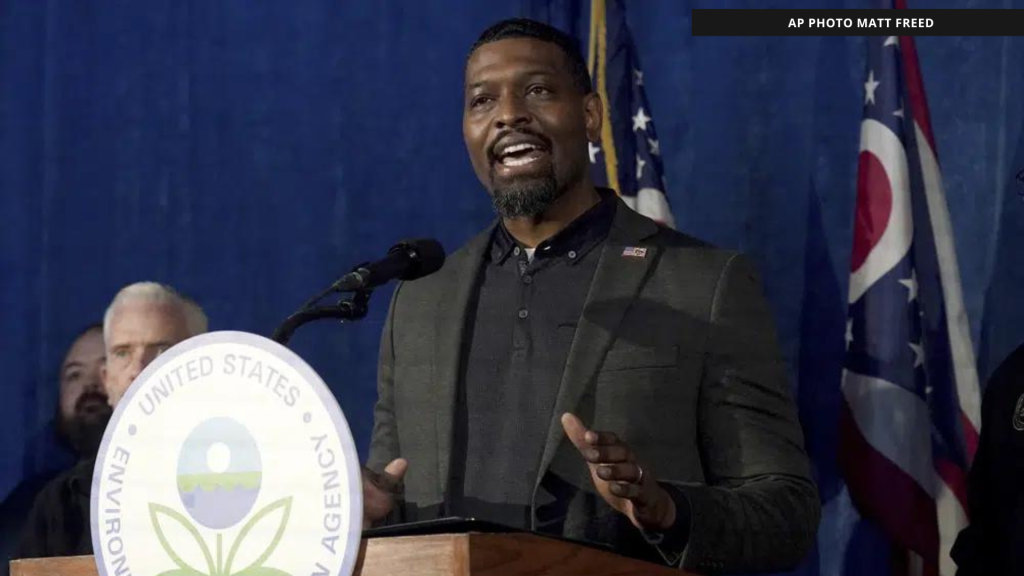 Copyright 2023 by the Associated Press. All Rights Reserved.
Tune in live for more on the stories that matter to you: WMAL.com | WMAL app | "Alexa, play W-M-A-L"
Follow WMAL on social media: Twitter, Facebook, Instagram, Youtube, Rumble, Gettr and Parler