NEW YORK (AP) — Fox News on Monday ousted prime-time host Tucker Carlson, whose stew of grievances and political theories about Russia and the Jan. 6 insurrection had grown to define the network in recent years and make him an influential force in GOP politics.
Fox said that the network and Carlson had "agreed to part ways," but offered no explanation for the stunning move, saying that the last broadcast of "Tucker Carlson Tonight" aired last Friday. Carlson ended the show by saying, "We'll be back on Monday."
Yet on Monday night, viewers tuned in to morning anchor Brian Kilmeade, who said that Carlson was gone, "as you may have heard."
"I wish Tucker the best," Kilmeade said. "I'm great friends with Tucker and always will be."
Then, he switched to a story on Hunter Biden, the president's son.
The break from Carlson comes amid a cascade of bad legal news for the network. A week ago, Fox agreed to pay more than $787 million to settle a lawsuit with Dominion Voting Systems over the network's airing of false claims following the 2020 presidential election — shortly before Carlson was expected to be called to testify.
CBS' "60 Minutes" on Sunday aired a report about a man caught up in a Jan. 6 conspiracy theory who said Carlson was "obsessed" with him, and whose lawyer has put Fox on notice of potential litigation. Carlson was also recently named in a lawsuit by a former Fox producer who said the show had a cruel and misogynistic workplace, and that she had been pressured to give misleading testimony in the Dominion case.
Meanwhile, CNN axed its own embattled anchor, Don Lemon, part of a one-day bloodletting in cable television news on Monday. Lemon had been a bad fit with his fellow morning hosts and was forced to apologize to GOP presidential candidate Nikki Haley for his comment that she was past her prime.
Carlson, however, had a greater influence, higher viewer count and more shocking exit. He worked at both CNN and MSNBC earlier in his career, then ditched his bow-tie look and quickly became Fox's most popular personality after replacing Bill O'Reilly in the network's prime-time lineup in 2017.
His populist tone about elites who are out to get average Americans rang true with Fox's predominantly conservative audience, even leading to talk about Carlson becoming a political candidate himself one day.
He did not immediately return a message seeking comment on Monday.
Shares of Fox Corp. slid 4% within seconds of the announcement of Carlson's departure, then recovered to be down 2.9% at the end of trading.
"Tucker Carlson had become even bigger than Fox News," said Brian Stelter, who is writing an upcoming book about Fox, "Network of Lies." "His sudden ouster will have profound consequences for Fox News, for TV news and the Republican Party."
When Carlson's exit was announced during a live showing of the ABC daytime talk show "The View" on Monday, the studio audience applauded. Host Ana Navarro then led the crowd in a singalong to a line from the song, "Na Na Hey Hey Kiss Him Goodbye."
Earlier this year, House Speaker Kevin McCarthy gave Carlson exclusive access to security tapes from the Jan. 6, 2021 Capitol riot, which the show used to conclude: "The footage does not show an insurrection or riot in progress." His interpretation was denounced by many, including Senate Minority Leader Mitch McConnell.
The "60 Minutes" report Sunday was about Raymond Epps, a former Marine and Trump supporter from Arizona who was in Washington on Jan. 6, 2021. He was later falsely accused of being a government agent conducting a "false flag" operation to start trouble that would be blamed on Trump supporters. Epps and his wife had to sell their business and home because of threats tied to these conspiracy theories.
On CBS, Epps said Carlson was "obsessed" with him and "going to any means possible to destroy my life."
Carlson was expected to be called as a witness if Dominion's case had gone to trial, but the two parties settled last Tuesday on the same day that opening statements were anticipated.
Dominion had contended that some Fox programs had falsely aired allegations that the company had rigged the election against former President Donald Trump, even though several Fox executives and personalities didn't believe them. Carlson's show was not among the chief offenders; he'd be an unlikely candidate to take the fall for that lawsuit.
In several messages, though, Carlson spoke candidly about his distaste for Trump at the time and his fear that the network was losing viewers among the former president's fans.
He was also quoted using profane language to describe Sidney Powell, the Trump supporter and conservative attorney who was given airtime on other Fox shows to spread lies about Dominion, and called her a "psychopath."
Carlson was recently named in a lawsuit filed by Abby Grossberg, a Fox News producer fired after claiming that Fox lawyers had pressured her to give misleading testimony in the Dominion lawsuit. Grossberg had gone to work for Carlson after leaving Maria Bartiromo's Fox show.
The lawsuit says that Grossberg learned "she had merely traded in one overtly misogynistic work environment for an even crueler one — this time, one where unprofessionalism reigned supreme, and the staff's distaste and disdain for women infiltrated almost every workday decision."
On her first day of work at Carlson's program, Grossberg said in her lawsuit, she was met with large, blown-up images of Rep. Nancy Pelosi in a bathing suit with a plunging neckline.
Fox has called the lawsuit "baseless."
On his show, Carlson has also been outspoken in questioning the United States support of Ukraine, following its invasion by Russian forces.
"It might be worth asking yourself since it is getting pretty serious: What is this really about?" Carlson said on his show. "Why do I hate Putin so much? Has Putin ever called me a racist? Has he threatened to get me fired for disagreeing with him? Has he shipped every middle-class job in my town to Russia?"
For the time being, "Fox News Tonight" will continue to air in Carlson's 8 p.m. Eastern prime-time slot, hosted by a rotating array of network personalities.
"We thank him for his service to the network as a host and prior to that as a contributor," the press release from the network said.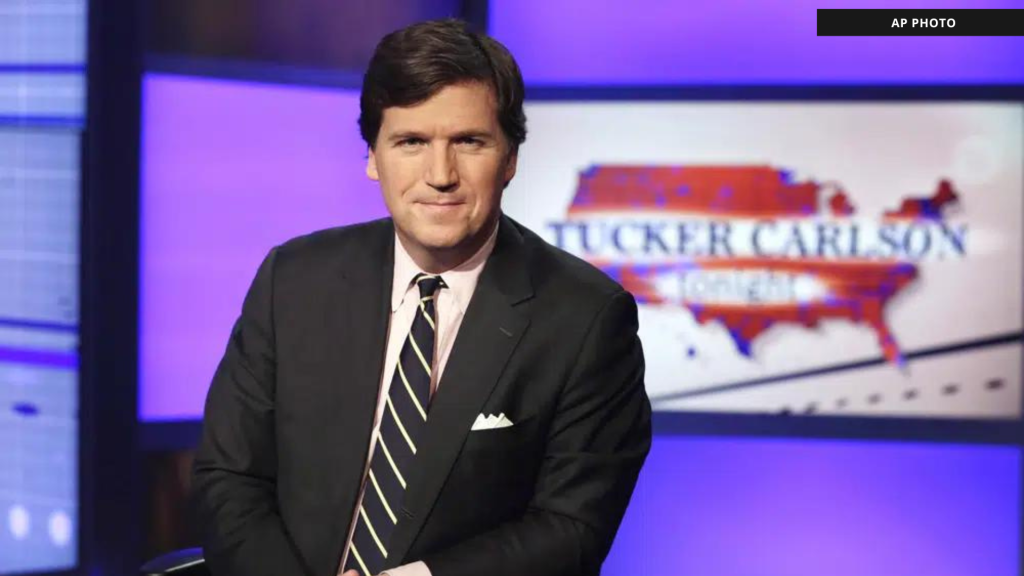 Copyright 2023 by the Associated Press. All Rights Reserved.
Tune in live for more on the stories that matter to you: WMAL.com | WMAL app | "Alexa, play W-M-A-L"
Follow WMAL on social media: Twitter, Facebook, Instagram, Youtube, Rumble, Gettr and Parler