ANNAPOLIS, Md. (AP) — Maryland Gov. Wes Moore signed gun-control measures into law on Tuesday, and the National Rifle Association quickly filed a federal lawsuit against them.
The governor signed legislation approved by state lawmakers this year in response to a U.S. Supreme Court ruling.
The high court's ruling in New York State Rifle and Pistol Association v. Bruen last year ended a requirement similar to a Maryland law for people to demonstrate a particular need to get a license to carry a concealed gun in public.
One of the measures Moore signed Tuesday removes the "good and substantial reason" language from Maryland law that the court found unconstitutional in the Bruen case. But the Maryland General Assembly, which is controlled by Democrats, also tightened gun laws to prevent someone from carrying a concealed handgun in certain areas.
"Gun violence is tearing apart the fabric of our communities, not just through mass shootings but through shootings that are happening in each of our communities far too often," Moore, a Democrat, said at a bill-signing ceremony.
Moore said the measures he signed into law demonstrate that the state won't back down from the challenges of addressing gun violence plaguing the nation.
"In Maryland, we refuse to say these problems are too big or too tough," Moore said. "We will act, and that's exactly what today represents."
One of the bills signed by the governor generally prohibits a person from wearing, carrying or transporting a gun in an "area for children or vulnerable adults," like a school or health care facility. The new law, which takes effect Oct. 1, also prohibits a person from carrying a firearm in a "government or public infrastructure area," or a "special purpose area," which is defined as a place licensed to sell alcohol, cannabis, a stadium, museum, racetrack or casino.
The law also prohibits a person carrying a firearm from entering someone's home or property, unless the owner has given permission. There are exemptions for law enforcement, security guards and members of the military.
The NRA contends in its lawsuit filed in U.S. District Court in Maryland that the state passed the legislation "in defiance of" court rulings that its gun-carry permitting law was unconstitutional.
"Through these bills, Maryland replaced one blatantly unconstitutional licensing regime with another blatantly unconstitutional licensing regime," the NRA said.
A separate measure signed by the governor changes and expand requirements and procedures that relate to the issuance and renewal of a permit to wear, carry or transport a handgun.
While it repeals the "good and substantial reason" requirement struck down by the Supreme Court, it raises the age for qualifying for a handgun permit from 18 to 21, which has come under court challenge in other parts of the country.
It also prohibits a permit for someone who is on supervised probation for a crime punishable by up to one year or more in prison, a person convicted of driving while impaired or under the influence, and people who violate a protective order. People with a mental illness who have a history of violent behavior also would be prohibited from carrying a gun, as well as people who have been involuntarily admitted for more than 30 days to a mental health facility.
The new law also makes changes to requirements for a firearms training course. For example, it specifies that 16 hours of in-person instruction for initial applications include laws relating to self-defense, safe storage and circumstances under which a person becomes prohibited from possessing a firearm.
The law increases the fee for an initial application for a handgun permit from $75 to $125. The fee for renewal or subsequent application for a handgun permit increases from $50 to $75, and a fee for a duplicate or modified handgun permit would go from $10 to $20.
The governor also signed into law another bill that strengthens storage requirements for firearms. Under the law, a person can't store a loaded firearm in a place where the person knew or should have known that an unsupervised minor has access to a gun. It's known as Jaelynn's Law. The law is named after 16-year-old Jaelynn Willey, who was killed in 2018 at Great Mills High School by a 17-year-old student who used his father's gun.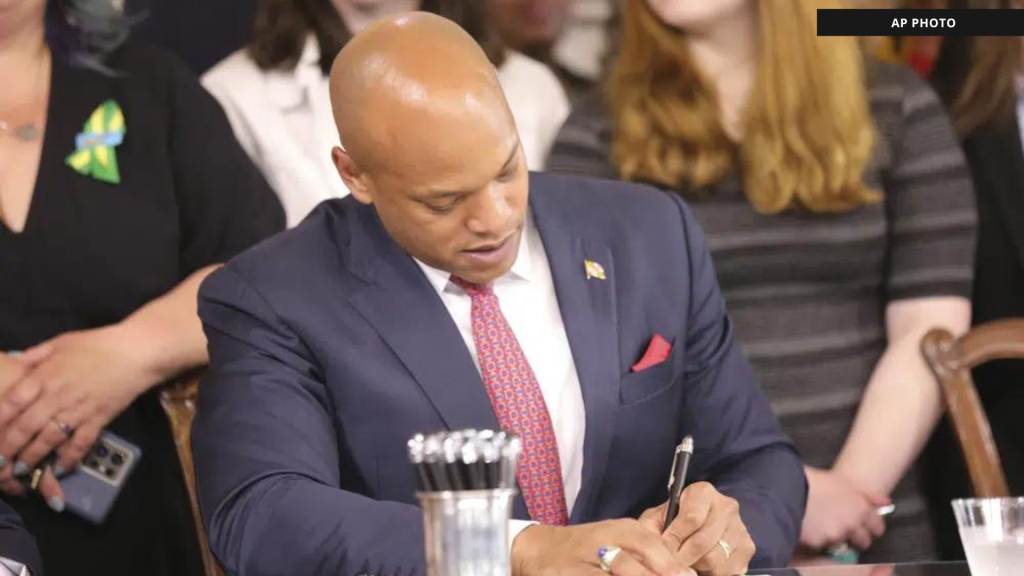 Copyright 2023 by the Associated Press. All Rights Reserved.
Tune in live for more on the stories that matter to you: WMAL.com | WMAL app | "Alexa, play W-M-A-L"
Follow WMAL on social media: Twitter, Facebook, Instagram, Youtube, Rumble, Gettr and Parler